The American Council of Engineering Companies of North Carolina (ACEC/NC) is the sole organization in North Carolina that represents the business interests of the engineering industry in our state.  A key component of ACEC/NC's mission is to "promote the business interests of engineering companies by providing legislative advocacy".  We work on behalf our member organizations to support and promote issues that are of importance to them and the engineering industry, both on the state and federal level.
State Budget Bill
The North Carolina budget for the 2023-24 fiscal year has been finalized.
Legislative Tracker
ACEC/NC focuses on policy, not politics.  Information on legislation we are tracking can be found on our Legislative Tracking webpage.
Top Legislative Priorities
Transportation

Modernization of Transportation Revenue - ACEC NC is working with State Government Officials to modernize the way state transportation revenue is generated. These initiatives include increasing funds to the State Highway Fund, increasing the Highway Use Tax, eliminating the Net of Trade Exemption, increasing E-Commerce Fees, indexing all new fees to the Consumer Price Index, and creating a pilot program for Mileage Based Fees.
Great Trails State Initiative - The Great Trails State Initiative is a planned network of shared-use trails of statewide significance connecting North Carolina's counties and population centers with state parks and important recreational assets. ACEC NC is working with NCDOT to expand this initiative and promote more multimodal infrastructure improvements across the state.
Environmental

WOTUS Rule Interpretations - The Supreme Court ruled in August 2023 that parts of the January 2023 Rule revising the definition of the "Waters of the United States" (WOTUS) were invalid with the Clean Water Act. ACEC NC is working with state and federal agencies to understand how this ruling will impact business practices and issue guidance on how projects can move forward in compliance with this ruling.
NCDEQ 401 Rules Violations/Timelines - North Carolina's Farm Act of 2023 restricts North Carolina's Department of Environmental Quality (NCDEQ) to only regulating wetlands that are subject to federal Clean Water Act jurisdiction. ACEC NC is developing guidance on how to navigate this new direction on active and future projects.
NCDWI Grant Review Timelines - The North Carolina Division of Water Infrastructure (NCDWI) provides financial assistance for projects that improve water quality. ACEC is clarifying the process for applying and receiving grants to bring better transparency to the process.
Federal

Federal Funding Match Program - There are issues limiting the effectiveness of the Federal Funding Match Program. ACEC NC, in partnership with ACEC National, is advising federal agencies on potential solutions to these issues.
Workforce and Procurement - USDOT Projects are running into workforce challenges that are impacted by the VH1-B and Sunset on Clearance Roadblock regulations. These projects are also being hindered by procurement challenges which could be mitigated through early contractor involvement. ACEC NC is coordinating with USDOT on potential mitigation measures.
Mega Contracts - Indefinite Delivery Indefinite Quantity (IDIQ) projects limit new competitors and small businesses from participating in federal contracts. ACEC NC, in partnership with the NC Military Business Center, is highlighting these concerns to the relevant national agencies.
Infrastructure Investment and Jobs Act - The Infrastructure Investment and Jobs Act (IIJA) authorized billions of dollars of new transportation and infrastructure spending in 2021. ACEC NC is working with USDOT to extend the sunset date for the distribution of these funds to state and local agencies.
Business Practices

E-Signatures - The North Carolina Board of Examiners for Engineers and Surveyors (NCBELS) has minimal guidance on the use of E-Signatures in the Engineering Industry. ACEC is working with NCBELS and NCDOT to issue guidance on using E-Signatures for signing and sealing 2D and 3D plans.
Is there an initiative missing from the list?
As a member the NC TEN Commission, ACEC/NC has advocated for the passage of additional funding streams for NCDOT developed by the NC TEN and NC FIRST Commissions, including increasing the EV registration fee, instituting a plug-in hybrid registration fee, and instituting a transportation service firm fee (Uber, Lyft, etc.). We supported the passage of over $2 Billion in state funding as part of the 2023-2024 state budget, as well as the passage of the transfer of General State Sales Tax Revenue to the Highway Fund, reaching over $600 Million by year three.
The Great Trails State Program received substantial support from the legislature in the budget for the 2023-24 fiscal year, which is a significant step towards funding trail infrastructure in North Carolina.  ACEC/NC recognized the benefit to the industry for providing funding for the Complete the Trail Program and critical trail projects across the state. In support of the North Carolina Great Trails State Coalition, ACEC/NC and many member firms lobbied the General Assembly for dedicated funding.  North Carolina Great Trails State Coalition represents 27 trails, conservation, and outdoor recreation groups from across the State.
The state of North Carolina officially designated 2023 as the "Year of the Trail", with a goal of boosting awareness of trails as well as trail use across the state! Officials chose the year 2023 because it will be the 50th anniversary of the 1973 North Carolina Trails System Act.
Political Action Committees
The purpose of our State Political Action Committee is to support candidates for North Carolina State Office that share the goals/ideals of enhancing the business of engineering. ACEC NC PAC is a State-level PAC that can accept individual contributions from any employee of a member firm and operates as part of ACEC/NC. Governed by a 5-person Board of Trustees, the PAC works to directly support candidates for state office through campaign contributions to those who support legislation favorable to the engineering industry.
The ACEC PAC supports candidates for the United States Congress who understand, appreciate and promote the business interests of consulting engineering firms and the broader values of the consulting engineering profession. ACEC PAC only accepts personal contributions.
ECNC (Engineering Companies of North Carolina)
ECNC is an Independent Expenditure Account whose purpose is to strengthen the effectiveness of our advocacy program and enhance the social welfare of the citizens of North Carolina. ECNC is an autonomous organization governed by a 5-person Board of Governors. It operates independently and distinctly separate from ACEC/NC. ECNC can accept both individual and firm contributions from anyone without limit and advocates for ballot issues and referendums that benefit the engineering industry and its firms. An independent expenditure allows quick response to issues and strong cooperation with our industry-related partners.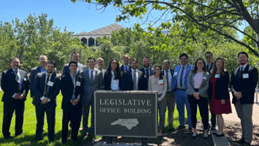 ACEC/NC Legislative Day is an annual event where members of the American Council of Engineering Companies of North Carolina (ACEC/NC) meet with state legislators and advocate for the interests of the engineering industry. The event aims to raise awareness of the importance of engineering services for the state's infrastructure, economy, and quality of life. Our ACEC/NC Legislative Day is typically held in the spring and more details can be found on the event webpage.
Find YOUR legislators by visiting the North Carolina General Assembly website.
ACEC National Initiatives
ACEC's mission is to advocate for the engineering industry, engaging member firms and employees in grassroots civic involvement to pursue legislative and regulatory objectives.